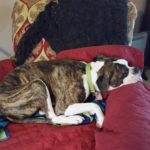 Animals come to the AWLA in a wide range of circumstances.  Some of the animals who join us need special medical care:
They may have been surrendered because their families could not afford that care;
They become sick or injured as strays;
We simply discover medical needs as part of a routine veterinary exam when they arrive.
This is why we have created the special Sarah's Fund, to help animals in need of life-saving or life-altering treatments or surgeries — to help heal Alexandria's Animals and find them homes.
Meet Ace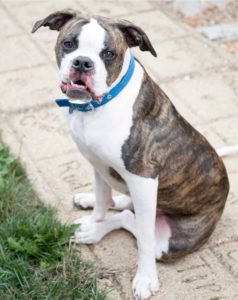 Ace is a one-year-old American bulldog who was surrendered at six months of age when he fractured his leg and his owners could not afford medical treatment.
The AWLA approved treatment of the fracture by Vola Lawson Animal Champions VCA Alexandria Animal Hospital, after which Ace was taken in by an amazing foster family.
As part of his follow-up medical care, our vet noticed that both of his knees had medially luxating patellas, meaning that Ace's kneecaps slip out of place. The condition is quite severe, and in consultation with a veterinary surgeon, it was determined Ace would need corrective surgery once he reached one year of age.
Ace has been steadily growing during his time with his foster family, where he spends much of his day playing with his beloved human foster brother.
Video below: Ace greeted by his foster brother after a trip to the vet.
Ace is still young, with his whole life ahead of him, and these knee surgeries will significantly improve his mobility and overall quality of life.  He will be able to walk and play more comfortably, and experience the active life of an adolescent dog.  Will you help Ace and other animals in need of life-altering treatment?  Please consider donating to Sarah's Fund today!
Photos: Ace the Dog in His Foster Home
This slideshow requires JavaScript.
Above: Ace is resting in preparation of two major surgeries. Will you support this pup?!
Photo of Ace at top and below: courtesy of DeSilva Studios.
This slideshow requires JavaScript.