Following are useful suggestions regarding companion animal adoption. When visiting the Animal Welfare League of Alexandria, please talk to our staff about these issues in greater detail.
Considerations Before Adoption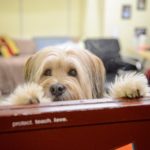 We believe that companion animals enrich our lives. Every adopted animal, though, requires time and attention. Before adopting, consider the time and resources you can spend caring for a companion animal.
At the League, we have hundreds of different animals available for adoption, and our knowledgeable staff can provide realistic estimates of the exercise, housing and general care needs for each of our adoptable animals.
Shopping for Your New Companion
The League has developed different shopping lists for each type of companion animal available at our shelter.
Click here for a shopping list for a new dog.
Click here for a shopping list for a new cat.
We are proud to feed our animals VéRUS All Natural Holistic Pet Foods.

Ask our staff for more information about the supplies needed to care for other animals.
Bringing Your New Friend Home
When picking up your new companion after your adoption consult, please remember to bring the following items:
A flat leash (for dogs): A six- or four-foot flat leash will ensure that your new companion remains safely near you.
A carrier (for cats): All cats should leave our building in a secure carrier. We recommend plastic airline carriers which have plenty of ventilation and are easy to clean (available at pet stores).
A travel cage (for birds) or travel container (for small animals and reptiles).
A towel or blanket will help protect your car's seat covers.
First Days Home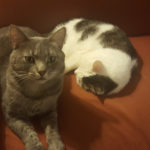 Remember that every companion needs time to acclimate to his or her new surroundings. Some pets may be excited to explore their new home, and some pets may want to sleep and relax. We encourage adopters to prepare their home for the new arrival—create a cozy sleeping spot and put away anything which may be a tempting chew toy or easily broken. Introduce your new companion to other people and places slowly and try to avoid situations which may overwhelm him or her (such as a family reunion on your new dog's first day home or a large dinner party on your new cat's first evening home).
The League asks that all adopters bring their new companion to a veterinarian for a wellness check shortly after their adoption. More than 20 area veterinarians provide this wellness check free of charge (not including any medications dispensed) to those who adopt from the League.
Stay Involved
We encourage our adopters to keep in touch! We love to post photos and stories about our graduates on our website, and our staff and volunteers greatly appreciate these updates. Remember that our staff is here to help. If you have any questions or concerns about your new companion, please contact us.
The League hosts many special events throughout the year, and we welcome our adopters' participation. Join us for our annual dog walk, calendar contest, Santa photos and other events for the whole family. Check our website for upcoming special events.