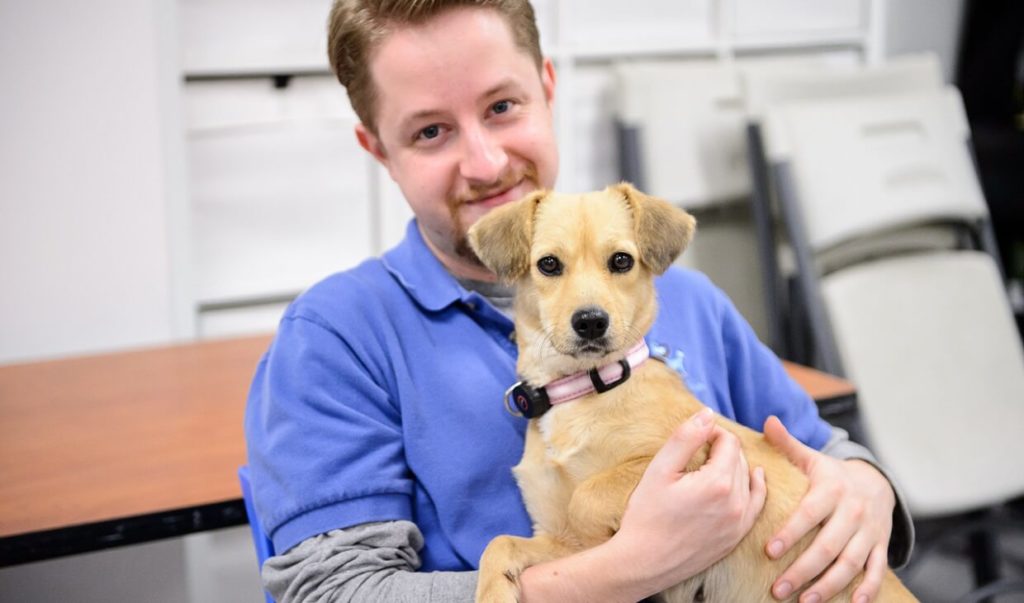 Visit the Shelter
Thank you for your interest in visiting the Vola Lawson Shelter operated by the Animal Welfare League of Alexandria.
The League welcomes small groups interested in taking a shelter tour and learning more about animal care and animal welfare issues. Shelter tours include an overview of the shelter and the companion animals in our care as well as a tour of all adoption areas. Most tours include a visit with one or more shelter Animal Ambassadors and a discussion of how to help our furred, finned and feathered residents. School groups, Girl Scouts, Boys Scouts, after-school clubs, etc are all welcome and encouraged to pay us a visit!
Shelter tours last between 30 and 45 minutes, depending on the age of the participants.  Tours are most appropriate for children aged six and older.  Due to the size of our facility, tours groups can be no larger than 15 people, including chaperones.
How to Schedule Your Tour
Group tours are offered 2 times a week:
Thursday at 4:30 p.m.
Saturday at 3:00 p.m.
Please click here to schedule your group. Unfortunately, unscheduled groups cannot be accommodated!
If you cannot visit during a pre-scheduled time slot, please contact visit@alexandriaanimals.org and we will do our best to accommodate your preferred time, based on staffing. Please note, as the shelter is cleaned every morning, 12:00 p.m. is the earliest that any tour can begin. 
How to Help Shelter Animals
Visitors often ask if they can bring donations for the animals. If your group would like to bring in-kind donations for the shelter animals, please click here to find instructions on how to make toys and treats at home. If you'd prefer to purchase items, please check out our Amazon wishlist.
While there is no fee associated with shelter tours, the Animal Welfare League of Alexandria assists more than 6,000 animals each year, and as a 501(c)(3) nonprofit, we are always in need of financial help.  These tours require time and resources, so if your group would like to make a monetary donation to help covers the costs incurred, you can do so via our website or in person when you arrive for your tour.  The suggested donation is $5 per tour participant, but we are grateful for any gift that you may provide.  Thank you for your generosity!