How to Plan for
the Care of Your Pets
One of the Animal Welfare League of Alexandria's many roles is to take care of animals who are left behind after their owner has died, become ill or faced a personal tragedy. These animals are often extremely traumatized when they arrive – having just lost their "person" and now everything they know. The pet's owner never intended for their animal to come to the shelter and likely thought a family member or friend would take in their animal if something happened to them – but, sadly, so often no one can step forward. We take in these animals and work on finding a new home and life for them as quickly as possible. However, in these cases, we always wish we knew more about the animal and had ways to comfort them during this difficult transition. What can you do to ensure the care of your pets if something happens to you?
Short Term Care
NOTIFICATIONS: If something happens to you, such as such as you become ill, are in a serious accident, or die, the right people need to know you have animal(s) at home who need care. Complete and keep the enclosed card in your wallet. Put a sign on your door so emergency know that you have animals. Our Animal Services Officers are often called by emergency personnel to take animals for safe keeping when an owner has died or has become sick. This is a scary time for animals and they often hide. Our staff needs to know how many animals to find.
INSTRUCTIONS: It is critical to leave instructions for how to care for your animal(s) if something happens to you. Is there a person who should be contacted to care for your animal(s)? Who is his/her veterinarian? Does he/she have medical condition(s) that need to be treated? What food does he/she eat? And, if the animal(s) need to be re-homed, leave as much information about his/her personality to help the right family to be found. Those little details about their likes and dislikes make such a difference. Complete the attached form and consider giving it to your veterinarian to store in the animal's record.
IDENTIFICATION: Make sure your pets have current and proper identification – dogs and cats in the City of Alexandria should have a current license. We highly recommend that you consider having your animal(s) microchipped and then make sure that the microchip company has your current contact information along with your pet's veterinarian's information. When an owner becomes sick or dies, it is not uncommon for an animal to run away from the home and it is critical the animal has identification. This identification may also be the only thing that helps personnel like staff from the AWLA to know your wishes for the animal. We may not find your instructions but, if we have the animal, we can look up its license and or microchip and hopefully get your veterinarian's information and get the instructions stored on file.
Long Term Care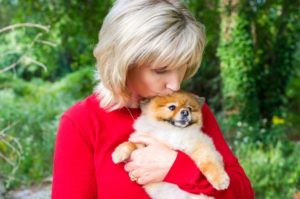 SELECT A CAREGIVER: It is important to identify a caregiver who could care for your animal in an emergency or if you die. You should talk with them to make sure they are willing to play this role and consider having several alternative caregivers listed in case this person is unable to help if the situation arises.
SET UP A POWER OF ATTORNEY: Consider putting instructions about the care of your pet(s) in your durable power of attorney. A power of attorney allows someone to care for your pet while you're living.
CREATE A PET CARE FUND: Set aside funds to cover the cost of your pets care if something happens to you. Trust for pets can range from the simple to the complex – most estate planning attorneys can help you set the right type up for your situation.
The AWLA believes that animals enrich our lives in so many ways – especially in our later years. To assist seniors with having the joy of animal companionship, we offer:
Animal Fostering – consider having an animal live with you without taking on the long term care of the animal. AWLA provides all of the animals' veterinary care and other expenses. Frequently, we have animals who are suffering from depression in the shelter after losing their person and they need the comfort of a home to make them feel alive again. Call 703-746- 4774.
Seniors for Seniors – We offer no fee adoptions of senior animals to seniors.
Animeals – AWLA partners with Senior Services of Alexandria to provide seniors who make use of their Meals on Wheels Program and have pets with the supplies that their pets need. Volunteers bring these supplies to seniors carrying up bags of food and litter to them.