Fostering
The League relies on foster caregivers to provide extra care and attention to some of our most vulnerable residents, including puppies and kittens as well as adult companion animals who are recovering from surgery or illness. Our foster caregivers amaze us with their dedication to provide their guests with love and support. Fostering can be exhausting and even heart-breaking work, but foster caregivers say that preparing their charges for lifetime homes is the best possible reward.
Read one AWLA foster parents account of her experience fostering a family of 8 dogs, originally published in the Mount Vernon Gazette.
Unable to foster but want to support the program? Check out the Foster Care Wish List for items you can donate to help our caregivers and their foster animals.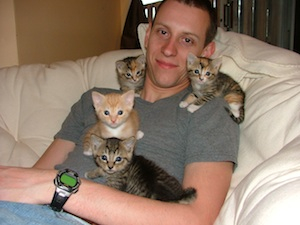 Program Goals
Through fostering, the League hopes to:
Improve the health of ill, injured, or poorly managed companion animals
Ensure that all underage and underdeveloped animals have reached the proper level of maturity for adoption
Increase the adoptability of undersocialized companion animals
Increase the shelter's capacity to care for animals in need
Is Fostering Right for Me?
Fostering animals requires, time, patience and flexibility. Please consider these fostering basics:
Typical assignments last from one week to two months, depending on the animal's needs
The League provides all basic supplies and medical care for each fosterling
Foster caregivers are asked to provide a clean, quiet environment for their fosterlings
All fosterlings should be kept separate from other pets in the home—limiting disruption of each pet's routines and limiting the chance for germs to spread
Foster caregivers receive training on how to care for their particular fosterlings
How Do I Get Started?
We ask all our foster caregivers for the following:
More Questions?
Email foster@alexandriaanimals.org or call 703-746-4774.