Featured Pets
AWLA saved kittens from a fire truck! Read their story and see pics.
Photo Contest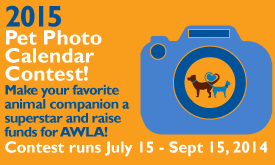 Feature your pet in our upcoming Calendar. Enter your photo or vote today!
What's New
We're changing our Shelter hours for you. Check out the updates, here.
Animals for Adoption
Happy Adoption Stories
We adopted "Mr. Wilson" (now he's Rex) in January of 2014. He is the most spoiled, loved, happy dog in the world! Here's a picture […]
Recent Facebook Posts
This is Abe – a Plott Hound who was found as a stray in Page County. He arrived very emaciated and his ears are tattered..