Upcoming Events
Read Fall 2014 issue of
Animal Welfare Matters
newsletter/calendar –
View PDF
.
---
FEATURED EVENT/FUNDRAISER:
Check out our featured event below, and go on to read our previously-featured blogs at the bottom, too!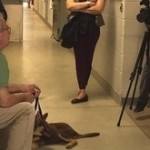 PBS News Hours Reports on Shelter
We were very pleased to have PBS NewsHour report on our foster care program as part of their educational workshops –http://www.studentreportinglabs.com – taught by their journalists. We look forward to sharing the video they will be creating.
---
If you are interested in helping Alexandria Animals, please click Donate and make a donation and make a difference.
Click here to see other adoptable dogs, cats, and small animals.