Upcoming Events
Read Fall 2014 issue of
Animal Welfare Matters
newsletter/calendar –
View PDF
.
---
FEATURED EVENT/FUNDRAISER:
Check out our featured event below, and go on to read our previously-featured blogs at the bottom, too!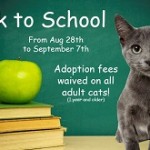 Back to School Special
It's that time of year again! Yes, it's time to go back to school and cats make great study buddies! Homework is so much easier with a warm kitty in your lap. We are having a "Going Back to School" special on all adult cats – all fees are waived from August 28th to September 7th.
We have many "study buddies" to choose from. Come visit us at 4101 Eisenhower Ave, Alexandria, VA.
---
If you are interested in helping Alexandria Animals, please click Donate and make a donation and make a difference.
Click here to see other adoptable dogs, cats, and small animals.