Home
/
Youth Volunteer Program
The AWLA is pleased to offer students younger than 18 an opportunity to support Alexandria's Animals through volunteering.
If your child is in need of service hours for school, please make sure to bring their service hours form with you to each activity, so that staff can log and sign off on their service hours.
Youth Volunteer Opportunities
Book Buddies is our in-shelter volunteer program.  There are also a number of activities that can be performed at home.
Book Buddies
Book Buddies is a group for children in grades 3-12, who are able to read at any level. Children are invited to the shelter to read to our cats (and other small animals) in our adoption room. The program helps children improve their reading skills while providing socialization and human interaction for the shelter animals. Cats find the rhythmic sound of a voice very comforting and soothing.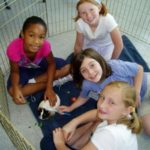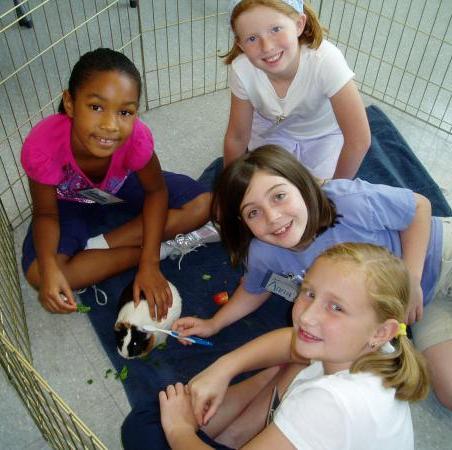 Parents can sign their child up for 20-minute reading sessions with shelter cats on Mondays, Tuesdays, Thursdays and Fridays from 12 pm – 5 pm. Participation is limited to ONE child per session. Please do not bring siblings or friends to your child's reading session. A parent is required to accompany their child at every reading session.
Children may choose a book from our selection of stories or bring one of their own, and they can read to any cats whose kennel sign does not indicate that they are not recommended for homes with children. You MUST be registered online to participate in the Book Buddies program.
There is no fee to participate in the Book Buddies Program. Children must be registered with a parent or legal guardian.
At-Home Activities
There are a number of activities that can be completed at home, including making toys or bedding for the animals, preparing treats or helping us thank our supporters.  In addition to the activities in the Project List, you may also hold a donation drive, a bake sale or another form of fundraiser for the shelter.  Please email volunteer@alexandriaanimals.org if you are considering a different form of fundraiser so we can ensure it will fit within AWLA's nonprofit guidelines.
All of the activities on the Project List can be completed at home, at school or as a group activity. Once you have completed your projects, feel free to drop them off at any time during AWLA's business hours and have any necessary forms signed by a staff member.
Seasonal Activities
Help represent AWLA at the Scottish Walk!  Children and parents interested in walking with the AWLA group on December 2, 2017, should email volunteer@alexandriaanimals.org to sign up.  Students may earn 2 community service hours for marching with AWLA (accompanied by a parent). The parade starts at 11am and our group will meet earlier to line up.  Full details will be provided upon registration.
Questions?
Please feel free to email volunteer@alexandriaanimals.org if you have any further questions!