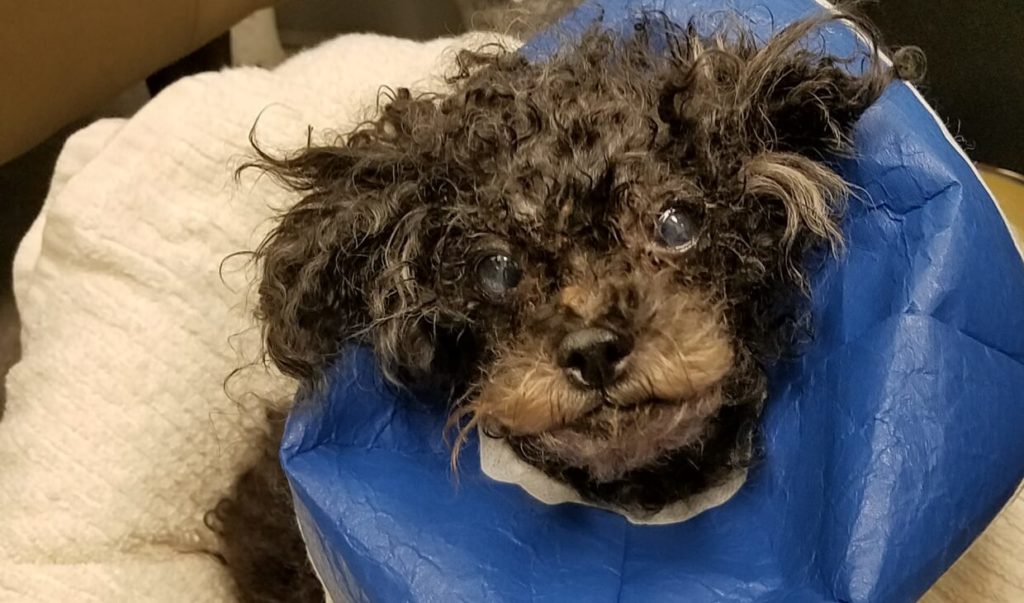 Cub E. Bear: Underdog Beats the Odds in Old Town Alexandria
A poodle with a mysterious history has made a remarkable recovery at the Animal Welfare League of Alexandria (AWLA) after being found by a Good Samaritan in the shallows of the Potomac River.
A Good Samaritan was sitting by the waterfront in Old Town Alexandria when he heard a whimper. Following the noise, he discovered a female toy poodle exhausted and spent on a rock in the shallows of the Potomac River. Wading into the water, he collected the dog and brought her immediately to Alexandria VCA Animal Hospital — one of AWLA's Animal Champions.
An immediate examination revealed severely diseased eyes in a dog of approximate middle age; careful removal of severely matted fur exposed the presence of maggots and other skin issues. Veterinarians spent two hours cleaning and treating the toy poodle, making her comfortable until she could be transferred to the AWLA in the morning.
Dr. Kaci Angelone, AWLA staff veterinarian, performed another examination on Friday morning. A prescription regimen for the blinding eye condition and skin irritation on the hind legs was initiated. At this time Cub E. Bear was mute and completely disinterested in engagement, sleep being her preferred activity.
After several days of rest and continued care, and a donated appointment with professional groomer Toyia Robinson of Clean Puppies, Cub E. Bear is the picture of vitality. Lively and loving, she now demands interaction and play from every passerby, and loves playing fetch at every opportunity. She strongly objects to being left alone.
AWLA treats, rehabilitates, and places more than 2,000 animals per year, providing a fresh start to many animals who, like Cub E. Bear, arrive at the shelter with unknown circumstances. Anyone interested in donating to AWLA's Sarah's Fund, which provides care beyond what the shelter offers on a routine basis, can do so via AlexandriaAnimals.org.
This slideshow requires JavaScript.