Thanksgiving is just one day and not nearly enough time to thank every person and organization who help us help Alexandria's Animals.
Over the next month, we will highlight just a few of those Animal Advocates, but today, we want to express how grateful we are to every one of you who make our efforts possible.
Thank you to everyone who adopted an animal, from the AWLA or any anywhere else.  We would not be able to fulfill our mission without each and every one of you who opened your home to an animal in need.
Thank you to everyone who donated funds to us this year, allowing us to provide food and medications to our adoptables; help maintain and expand our facilities; and support the staff and activities that enrich their stay with us until they embark upon the next chapter in their stories.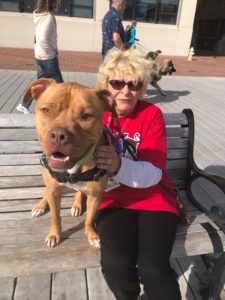 Thank you to everyone who donated their time to support Alexandria's Animals: from walking dogs to socializing cats, washing laundry and dishes or bringing our adoptables into your homes for the extra TLC that only a foster caregiver can provide.
Thank you to everyone who brought donated food and pet supplies to the shelter, or ordered much-needed items from our Amazon Wish Lists, like doggy paddle pools and pallets of neonatal kitten formula for this year's extended kitten birthing season.  Even the regular refills of hot dogs help our volunteers train pups and prepare them to join their new families.
Thank you to the many local businesses who provide services to support our animals and the shelter itself.  These in-kind contributions represent hundreds of thousands of dollars that we are able to commit to our adoptables instead of spending them on the very real costs of legal support; landscaping; promotion; technical and financial guidance; and of course, veterinary support for the animals in our care.
Thank you to everyone in our community, whose interest and support make our work possible.  On this day of thanks, we are so grateful to everyone who touches and enriches the lives of Alexandria's Animals.  We wish you and your family the same good will that you so generously bestow upon Alexandria's Animals!

If you'd like to expand upon your amazing support of Alexandria's Animals on this Day of Giving, please make a donation now!
Kitten photo in header courtesy of Shelley Castle Photography.  Photo of gray kitten Madison courtesy of DeSilva Studios.