As we get older, we sometimes need a little extra attention and care, and that goes for senior animals as well. Still, older animals can be some of the best pets you have the privilege of spending time with: they're mellow, they know their way around a house and they want nothing more than to spend a quiet evening in, relaxing with their beloved human companions. We have several senior kitties at the AWLA who are looking for just that, a comfy place to hang out with friendly people who might be able to help support some of their medical needs.
Jack
Jack is a 15-year-old cat who came to us when his owner, also a senior, could no longer care for him. At first, he needed some extra support from us to manage a heart murmur, kidney disease and hypertension, but after several weeks of vigilant care, he has made some big improvements. He is also enjoying the extra attention from the AWLA staff, giving head bumps and purrs to everyone he meets; he didn't even want to sit still for a photo when he could be getting some love instead! Jack will need subcutaneous fluid injections, and we are seeking a home for him with an experienced owner willing to take on these injections. Jack is also exhibiting dental disease, and he will need regular medication, as well as bloodwork/blood pressure testing and urinalysis on a regular basis.
Cami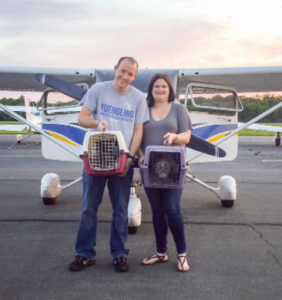 Cami is a 12-year-old tabby who made quite a trip to make her home in Alexandria. She was adopted 10 years ago from the AWLA, but when we received word from an Ohio shelter earlier this year that she had been surrendered and would be unlikely to find a family in their area, AWLA Deputy Director Abbie Hubbard found a way for her to be transferred back to the AWLA: by plane, train, and automobile, and at no cost to the AWLA. Cami has hyperthyroidism, hypertension and kidney disease, but is very personable and loves spending time with people. She will also need daily fluid injections and medication from an experienced caregiver, as well as bloodwork, blood pressure testing and urinalysis 3 to 4 times a year.
Right: Cami had a long road to adoption, both geographically and medically, but she's looking for a new family with whom to enjoy her senior years.
Sneaks
When Sneaks joined us this past spring, he was not doing well. He had an untreated case of diabetes, and was found to be FIV positive, but after spending some quality time with our veterinary staff and an amazing foster family, we were able to manage his health with twice daily insulin shots, and this 14-year-old – affectionately known as Grampy – is now acting younger than his years. He loves to be held, and drools when you rub his belly. Sneaks is currently staying with a foster family but is hoping to find his long-term family; he's happy to live with kids, dogs or other cats (as long as they are also FIV positive).
All three of these kitties are affectionate and looking for caregivers to provide them with the attention they crave. While we hope that each of these sweet seniors will ultimately find a permanent home, we are also interested in finding Jack and Cami specialized foster placements to get them out of the shelter environment and into a home where they can thrive. If you have experience with senior cats, especially those in need of regular subcutaneous fluid injections, please contact foster@alexandriaanimals.org to see if you might be able to provide one of these charming kitties with the extra TLC they need. If you are interested in adopting Cami, Jack or Sneaks, you can learn more about them by contacting adopt@alexandriaanimals.org or calling us at 703-746-4774.