Red-Eared Sliders (Turtles)
Home
/
Red-Eared Sliders (Turtles)
What You Need to Know About the Law and Adopting a Slider in Virginia: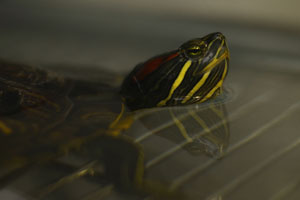 Red-eared sliders, semi-aquatic turtles named for the distinctive red stripe on the sides of their heads, are among the most popular pet turtles in the United States. They hatch from small eggs, about the size of a quarter, and grow quickly up to a foot in length. But caring for a red-eared slider is a big commitment, and it is important to know something about the breed and about the numerous laws that apply to it before deciding to make a slider a pet.
Federal Law
A 1975 federal law prohibits the sale of turtle eggs and live turtles less than four inches in length. In Maryland, it is illegal to sell turtles caught in the wild as pets and in Virginia, red-eared sliders are defined as naturalized wildlife, which makes their sale or purchase illegal in the state. They can be given away or kept as pets, as long the person caring for the slider has no more than five of them. Anyone thinking of a red-eared slider as a pet should consider adopting.
Shelters
Many animal shelters do not accept red-eared sliders, and many rescue organizations that take turtles are at capacity and are unable to accept red-eared sliders. Fortunately, the Animal Welfare League of Alexandria's Vola Lawson Animal Shelter is an open-admission shelter and accepts red-eared sliders.
Adoption at AWLA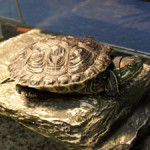 The shelter often has turtles available for adoption, and the AWLA cannot charge an adoption fee for the red-eared slider due to state and federal law. Additionally, the turtles can only be adopted into homes in Virginia because it is illegal to import or export the turtles across state lines.
Besides these legalities, federal law prohibits releasing red-eared sliders into the wild, so if the turtle cannot be given to a shelter, rescue organization, or another home, it must be humanely euthanized.
Lifespan, Growth and Good Environments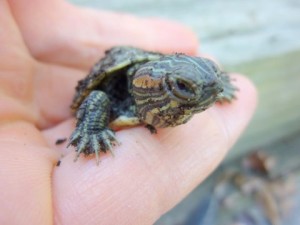 Adopting a red-eared slider is a long-term commitment. The turtles live an average of 30 years, although some live to be 40 or 50. The turtles also require a lot of space. Females can grow to be 10 to 12 inches, and males can reach 7 to 8 inches. They should be kept in a very large tank or pond with 10 gallons of water per inch of the turtle, and fenced-in backyard ponds can be good environments for pet red-eared sliders, according to experts on the breed.
For more information about red-eared sliders and other turtles found in Virginia, visit the Virginia Department of Game and Inland Fisheries (VDGIF).
Looking to Adopt a Turtle?  Check Here!
For a current list of adoptable animals at the Vola Lawson Animal Shelter, visit our adoption page.
Written by Amanda Heincer, AWLA volunteer