Paws 'N Claws for Art Exhibit at the Vola Lawson Animal Shelter
February 21 – May 31, 2015
Reception: Friday, February 27 from 7-9pm
Please join us for a reception to view the artwork. Light fare and refreshments will be served during the reception, and Animal Welfare League staff will be available to conduct tours of shelter facilities and introduce guests to current residents.
Del Ray Artisans' Gallery Without Walls program, in partnership with the Animal Welfare League of Alexandria and UpCycle of Alexandria.
This is this third exhibit at the shelter and Del Ray Artisans member artists are showing two-dimensional works of art celebrating the animals that enrich and inspire them. Artworks include a variety of styles and media inspired by these animals.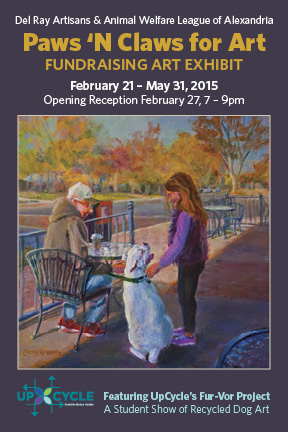 As a fundraising effort, a percentage of each sale goes directly to the Animal Welfare League of Alexandria and Del Ray Artisans—both 501(c)(3) nonprofit organizations. An added benefit is patrons may immediately take possession of purchased artwork at the time of purchase.
In addition, a special showing by UpCycle's Fur-Vor Community Art Project will be featured. This community-based project is funded by the Alexandria City Commission for the Arts. It was designed to encourage and enhance students in the creation of animal-inspired art with recycled materials.
The Vola Lawson Shelter is open to the public for adoptions and viewings during the following hours: Monday-Thursday 12-7pm, Friday closed, Saturday and Sunday 12-5pm. It is handicapped-accessible.
---
Fun Dog Show 2015
March 7, 2015 – Register your dog for the Fun Dog Show as part of the Annual Ballyshaners St Patrick's Day Parade.
The Animal Welfare League of Alexandria is proud to host the 2015 Fun Dog Show. Join us prior to the parade kick off when dogs of all sizes and breeds are invited to compete in the Fun Dog Show. Dr. Katy Nelson will be Master of Ceremonies for judging in the following categories: Best tail wag, Smallest dog, Best Irish costume, Biggest dog, Best adopted dog and Best owner/dog look-a-like.
The competition will take place in Market Square, 301 King Street in Old Town Alexandria. The show begins at 11:15 am, featuring animal friendly vendors and afterward all dogs are welcome to walk up King Street to begin the Parade.
For more information or to register:
http://www.ballyshaners.org/parade/ParadeInfo_dogshow.htm
---
Shelter Walk 2015
May 3, 2015 – Shelter Walk for Homeless Animals. Save the date more details to follow!
For more information, please visit:
https://alexandriaanimals.org/walk