Zola had traveled so far. This Chihuahua/Pit Bull Terrier mix charmed everyone she met. Most had never seen such a mix of breeds and didn't know what to expect, but when they saw that she could barely sit still because her tail was wagging so hard, they were instantly infatuated. The fact that she then wanted to follow her new friends around and accommodate her not-insubstantial frame into every lap she encountered just helped to seal the deal.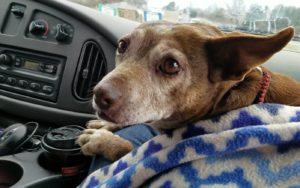 We weren't sure how old Zola was. She joined us from the Galax Grayson Carroll Animal Shelter in mid-December, 320 miles and almost five hours away. Several members of our staff were touring the facilities of one of our busiest and most needy transfer partners, and Zola herself seemed to oversee the adventure. She wanted to join every meeting and supervise every attendee. Her records said that this officious pup was seven years old, but based on the state of her teeth and her walk, we guessed she was probably several years older. Still, she was lively and lovely, and our team was excited she would be returning to Alexandria with us, even if she wanted to do so from the driver's seat.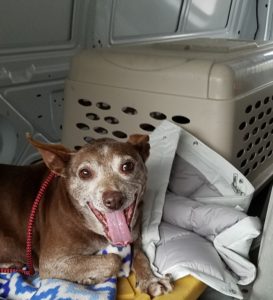 We wanted to learn a bit more about this pup, so during the holiday season, she spent some time with our Executive Director Megan Webb, both in the office at and home. Our suspicion that she'd had puppies was furthered by the way she "Momma Dogged" Webb's own pups, making sure they stayed in line and observed the rules of the house she laid out. Zola knew how things were done, and she enforced those rules with man and beast alike. We still didn't know any more about where she had been before she went to the Galax Animal Shelter, but manners were obviously an important part of her environment.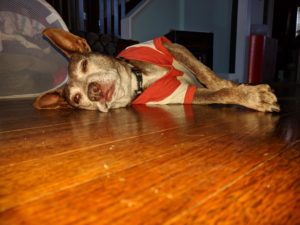 Sometimes you can know so much about an animal without really knowing much at all. This cryptic canine had so much to share, but we knew her story wasn't for us alone. In early January, Zola was made available for adoption, and only a day later, her new family found her. Just like everyone else who met Zola, it was love at first wiggle, and she left with them the next day. Based on the pictures they have already shared, Zola has finally found her home!
Animals come to the AWLA in so many different ways, and each has his or her own story, even if we don't know it. With your support, we can help to give so many animals – like Zola – a new chapter. Thank you for being part of our community. Thank you for giving this "happy tail" a happy tale of her own.
*Cover photo courtesy of DeSilva Studios.