Thank You for Giving Alexandria's Animals a reason to Celebrate!
Thank you to everyone who helped to make this Thanksgiving a successful Kongs-giving! Our amazing volunteers filled 150 Kongs that will last our adoptables throughout the holiday season, as well as making 10 blankets and giving holiday treats to all our cats and other small animals. Check them out in action, supervised by our Kongs-giving staff, Blossom the turkey and Rosie the pig:
This slideshow requires JavaScript.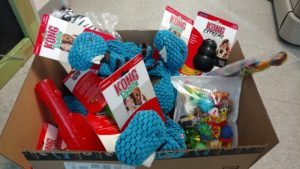 Even those who couldn't attend the event sent boxes of goodies from our Amazon wish list for our residents to enjoy.
To everyone who supported Alexandria's Animals this Thursday and this past year, thank you!