Fun Dog Show
Join us for the 2017 Fun Dog Show and The Ballyshaners, Inc.,  Annual St. Patrick's Day Parade
Saturday, March 4, 2017
10:30 a.m. to 12:00 p.m.
Market Square
301 King Street, Alexandria, VA
The Fun Dog Show will kick off the 2017 Alexandria St. Patrick's Day Parade. It is an event that brings out animal lovers of all kinds and lets our four-legged friends strut their stuff, shake a tail, and don their finest Irish apparel. Register today (add Classy link) and have your dog walk along the stage to show off his or her best Irish costume. The dog contest will be cheered on and judged by the spectators. We welcome animal lovers to come out to watch the show and help judge the event. Prizes will be awarded in four categories: Most Outrageous, Most Creative, Dog-Owner Look Alike, and Luckiest Dog.

CLICK HERE TO REGISTER NOW!
 Advance online registration is $25 per animal contestant.
On-site registration is $30 per animal contestant.
All registration fees benefit AWLA and the Ballyshaners.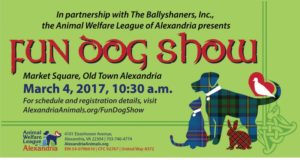 Schedule of Events
10:30 a.m. to 10:45 a.m.         On-site registration and advance online registration check-in.
– Dogs are given a contestant card and placed in line for their show category.
                                               – (Note: Dogs are not permitted on Market Square before 10:30 a.m.)
11:00 a.m.                               Welcome and Introduction
11:10 a.m.                               Contest Begins
                                               – Most Outrageous costume
                                               – Most Creative costume
                                               – Dog-Owner Look-Alike costume
                                               – Luckiest Dog costume

11:55 a.m.                               Conclusion of Fun Dog Show
12:00 p.m.                               St. Patrick's Day Parade begins                              

Contestants and dogs are invited to line up to lead the pre-parade kickoff. (Dogs and owners do not officially walk in the parade.)
Contest Rules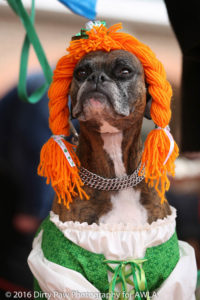 Entrants complete the online form with the owner's name, contact information, canine's name, and costume category for each entrant.  

Entrants are provided a participant number that must be worn/displayed so that it is visible to spectators.

Each dog must be leashed at all times using a standard (non-extendible) leash of no longer than six feet in compliance with Alexandria law.

  

Each dog should have his/her own adult handler.

Entrants must gather at the side of the stage when their numbers, in groups of 10, are called.

All participants will be combined in one Voter category. All voters' decisions are final. Spectators vote by applause. 

For the safety of all present, especially our animals, non-ADA motorized vehicles are not permitted.

No entrant is eligible for more than one award.

AWLA reserves the right to refuse entrant participation. All sales are final — organizers cannot provide refunds.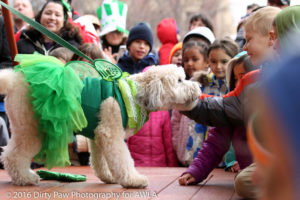 Questions
For questions or inquiries about the Fun Dog Show event, please contact Dorothy Martinez, event planner, via email: dmartinez@AlexandriaAnimals.org.