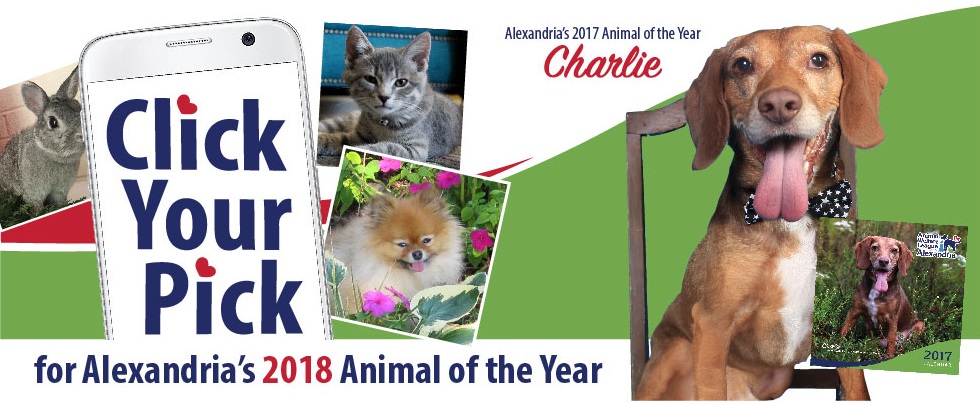 Announcing the AWLA Calendar Contest 2018
Every year the Animal Welfare League of Alexandria's pet photo contest chooses an "Animal of the Year" — an ambassador to represent all of Alexandria's Animals at AWLA and City events. It's time to take a photograph of your favorite animal, enter it in the online contest, and encourage everyone to "Click Your Pick" to be this year's winner!
"Click Your Pick" for Alexandria's Animal of the Year
Registration, voting, and competition activities begin June 1, 2017, and continue until July 16. After contest results are announced, the AWLA will publish a colorful, full-sized calendar celebrating all of Alexandria's Animals.
In addition to being crowned Alexandria's 2018 Animal of the Year, the winning pet will be featured on the front cover of the calendar and appear in a local theater commercial.
How to Enter
The contest is one of the AWLA's most important annual fundraisers, encouraging donations critical to helping local animals in need. The fee to enter your favorite animal(s) is $30 (one entry per photo). Votes cost $1 each. Entries and votes can be purchased online at the upcoming contest portal:
Or, by calling 703-746-5661, in person at the Vola Lawson Animal Shelter, or by mail to the attention of:
"AWLA Click Your Pick 2017"
4101 Eisenhower Avenue
Alexandria, VA 22304
For the pet photo contest timeline, rules, prizes, and participating photographers, click here.