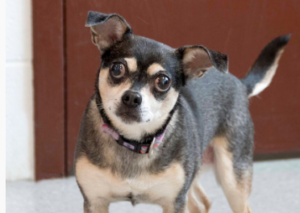 When you visit the AWLA, you may not see Corona.  The 15-year-old Chihuahua came to us in April 2017, making her a member of our "100 Day Stay" Club.  Corona had lived with her owners since she was a puppy, and when they unfortunately had to surrender her, she was left without the only family she had ever known.
She was understandably distressed, and that made her hard to approach when she joined us here at the AWLA.  We worked intensively with her, and over time she realized that we were here to help her, and she even made some friends.  Still, we knew that staying in a kennel would be too stressful for this senior lady, which is why she resides in the office of one her new friends, Jessica, our Volunteer Manager.  While Corona is much more comfortable in this current abode, it means that the potential adopters who come by daily don't necessarily get to meet our cheeky Chihuahua gal.
Video: Corona greeting Jessica in the morning
Corona can be fiercely loyal to those she chooses as friends, and also affectionate.  She is a sassy girl, and like many of us, particular about those with whom she wants to hang out, but we know that the right home is out there for her.  That home is a quiet adult household where she is the only pet, and where her human companions know how to respect her boundaries.  We know that we will reach a wide new audience of potential adopters on August 19 during Clear the Shelters, and we hope Corona's new family will be part of that audience. Are you a lover of Chihuahuas?  Do you have experience with dogs who know their own mind?  Maybe that potential new family is you.
Video: Corona shows off her tricks
Clear the Shelters – August 19th
"Clear the Shelters" is an opportunity for many of our adoptable animals like Corona who haven't met the right family yet.  We are confident that with so many new faces coming in the door on Saturday, August 19, we can find homes for Corona, for bonded cats Midnight and Daybreak (pictured), for Gracy the sweet brown bunny (pictured below), or other adoptables who are ready to take their next steps forward.  We hope you'll join us in trying to help all of these animals find their new families.
Even if you aren't able to adopt on August 19, you can still help Corona on her journey with our new initiative, "Clear It Forward".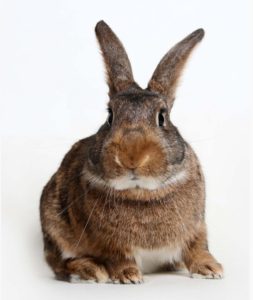 We are excited to reach new potential adopters for Corona, Daybreak, Midnight and Gracy during Clear the Shelters event, but we realize that our care and treatment of these future pets has associated costs.
"Clear It Forward" allows individuals to support the success of Clear the Shelters by pledging funds for each animal adopted on August 19.  Donors can also contribute a fixed amount, all of which will help us defray the expenses of adopting animals like Corona at no cost during Clear the Shelters.
Please consider making your pledge to "Clear It Forward" today!
Corona will be available for adoption on August 19, though she won't be in the kennels with our other dogs, but if you think you might be the family for her, please ask our staff to meet her.  Maybe you're the new best friend this girl is looking for!