Emergency Preparedness
Alexandria CART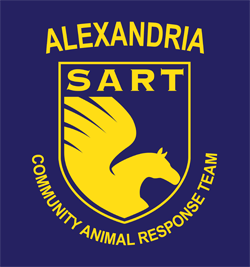 During natural disasters and emergencies, the safety of you and your loved ones should be your highest priority. For Alexandria's Community Animal Response Team (CART), this includes the safety of your companion animals as well. Many people are reluctant to evacuate during emergencies because, understandably, they don't want to leave their beloved pets behind. However, this puts people and animals at risk. The Alexandria CART assists pet owners by constructing temporary shelters where humans and animals can seek safety.
Alexandria's CART is a volunteer organization comprised of specially-trained citizens, shelter staff, and members of Alexandria's Animal Control Department. Working with City agencies, federal and state government, other CART in the state, and the Virginia State Animal Response Team (VASART), the Alexandria CARTs supports pet owners through emergency preparedness and disaster response.
The Alexandria CART is approved by VASART and works with collaborating organizations.
Tips for Emergencies
The best way to cope with a disaster or emergency is to BE PREPARED IN ADVANCE. A little bit of planning can be vital when a disaster strikes. Take the time now to:
License and microchip your pet. In the event your pet is separated from you during an emergency, a microchip can help authorities easily identify your pet and reunite him/her with you.
Create a Pet Emergency Kit that is ready at a moment's notice. Include several days worth of any medication, medical and vaccination records, a picture of yourself and your pet, a leash, a collar, ID tags, water, food, toys, and bedding.
Create an emergency contact card for your pet. Cards are available here.
Purchase a pet carrier and label it with your contact information.
Create an emergency preparedness plan that includes your pets and accounts for transportation, food, water, and shelter.
Additional Resources
The following links serve as excellent resources for pet owners, CART volunteers, and veterinarians.
Weather
Natural disasters and everyday emergencies are often related to the weather. Unfortunately, this means you may be without power during the hottest periods of the summer and the coldest periods of the winter. When creating an emergency preparedness plan that includes your pets, take into consideration the various weather conditions you may be facing.
How to Help
The Alexandria CART is currently seeking donations of important disaster response items. Please see CART Wish List (coming soon), or view the Amazon Wish List (coming soon) online. Monetary donations to purchase needed equipment are also welcome and can be made to the Animal Welfare League of Alexandria with "CART" listed as the designated fund. All donations are tax deductible. Click here to donate online.