Special Funds for Our Special Residents
The League has two specially-designated funds that help us to provide extra medical care for some of our residents. Please consider donating to either (or both!) of these funds, and know that your gift will make all the difference for some of our most vulnerable companion animals.
Sarah's Fund
Since 2003, Sarah's Fund has enabled us to provide special medical treatment for pets who need more care than the League can routinely provide. Sarah's Fund has helped hundreds of companion animals over the years—covering emergency surgeries, physical therapy, and costly medication that may otherwise have fallen outside of our budget.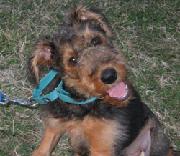 Ben, an Airedale puppy, arrived at the League in poor condition. His rear leg had been injured and left untreated. Our staff quickly realized that Ben required immediate medical attention resulting in amputation of his leg. Following surgery, recuperation with a foster family and several veterinary follow-up visits, the true Ben emerged: a happy, spunky dog who was adopted into a loving family. Ben was renamed "Speaker" because of his vocal personality. He now lives with multiple League graduates and can run circles around most dogs. Sarah's Fund covered his surgery and treatment.
Rosemary's Seniors Fund
The AWLA believes that senior pets can make excellent companions. We often have lovely, lively older pets who are looking for new homes—and may be overlooked when visitors spot young puppies or kittens. With support from a generous supporter, the League created Rosemary's Seniors Fund which finances diagnostic screening for older dogs or cats who may need additional care. A clean bill of health gives adopters one more reason to consider mature pets for their homes.
Read one adopter's loving memories of Fox, an AWLA Alumnus that was adopted at 8 years old and proved he still had a lot of love left to give.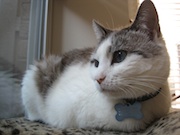 Dijon, a 12 year old Siamese mix, was found abandoned in an apartment with one other cat. Despite her charming personality, League staff worried that Dijon would be overlooked for other, younger cats. Through Rosemary's Seniors Fund, the League sent Dijon in for diagnostic bloodwork as well as a much-needed dental cleaning. Dijon's bloodwork showed that she was in excellent shape for a senior gal. She shares her new home with a dog, two cats, two birds…and a loving adopter. 
Help other companion animals like Speaker and Dijon. Donate to Sarah's Fund or Rosemary's Seniors Fund today.