Featured Animal
Check out our featured pets and wildlife below, and go on to read our previously-featured blogs at the bottom, too!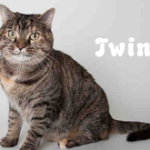 Twinkie
Twinkie is as sweet as can be…maybe even sweeter than the delicious dessert! She has beautiful green eyes that glow just as vibrantly as her spectacular personality; Twinkie doesn't need to resort to meowing to get the attention she deserves. This graceful kitty is not just a treat for the eyes, she is softer and smoother than the cream filling (and has zero calories)! Once you start petting her silky smooth coat, she shows her gratitude by affectionately rubbing her face against your hand. Whether or not you care for Twinkies, this cat is definitely worth indulging in! Fall in love with her today and invite her into your family!
---
If you are interested in helping animals like these, please click Donate and make a donation and make a difference.
Click here to see other adoptable dogs, cats, and small animals.