Featured Animal
Check out our featured pets and wildlife below, and go on to read our previously-featured blogs at the bottom, too!
Kingston still needs a home
Kingston came to the Animal Welfare League of Alexandria (AWLA) through an animal cruelty case. His companion, Queen (now Sunny), and their pups (Everest, Olympus, and Himalaya), were rehabilitated by the AWLA and have found new homes. Now it's King's turn!
With the help of AWLA staff and our friends at Fur-Get Me Not  dog training, Kingston has been hard at work learning manners and healthy ways to keep his active mind occupied. In the video above, you can see Kingston exercising his olfactory talents through Nose Work training, which helps build confidence and focus. The AWLA believes King will thrive with an owner who has dog experience, and Betsy at Fur-Get Me Not has generously offered to donate training classes to the lucky person who adopts King, so he can continue to learn and progress. King is a smart, friendly, active dog who has so much to give, and we can't wait to see him settle into a forever home.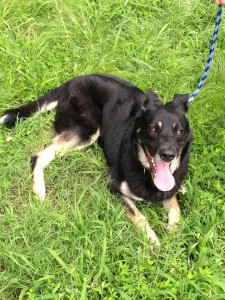 Anyone interested in adopting Kingston should contact us at (703) 746-4774 to set up a time to meet with King and talk to the staff members who have been working closely with him since his arrival.
---
If you are interested in helping animals like these, please click Donate and make a donation and make a difference.
Click here to see other adoptable dogs, cats, and small animals.