Featured Animal
Check out our featured pets and wildlife below, and go on to read our previously-featured blogs at the bottom, too!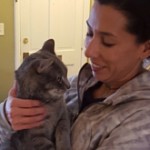 Chester was adopted!
We're happy to report that Chester has been adopted!
The grey tabby had been at the shelter since January 2015, and we were so anxious to find a home for him. You can read Chester's story here. Finally, on Friday, January 29th, Chester's adopter went to his foster home to pick him up and take him to his new life.
Congratulations, Chester!
---
If you are interested in helping animals like these, please click Donate and make a donation and make a difference.
Click here to see other adoptable dogs, cats, and small animals.