Featured Animal
Check out our featured pets and wildlife below, and go on to read our previously-featured blogs at the bottom, too!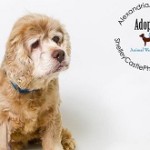 Meet Dublin!
In January, a concerned citizen called the Alexandria Police Department to report that a dog had been tied outside all day. Our Animal Services team responded to the call and found Dublin, an 11-year old Cocker Spaniel that was in need of medical attention. Dublin's owners decided to surrender him to the Animal Welfare League of Alexandria because they were unable to provide him with much-needed medical care. Dublin was suffering from a severe ear infection, an eye infection, severe dental disease, and he had large masses that needed to be removed.
After many weeks of medical treatment and surgery to remove his masses, neuter him, and treat his dental disease, Dublin has been recovering very well in the shelter. Despite his hearing and vision impairments caused by untreated chronic disease, Dublin still has a lot of energy and loves to explore his surroundings and search for treats. Dublin will need on-going medical care to manage his ear and eye disease, but he is feeling so much better these days. We are thankful to the concerned Alexandrian that notified us about Dublin, as we are so thankful that we were able to intervene and turn his luck around!
---
If you are interested in helping animals like these, please click Donate and make a donation and make a difference.
Click here to see other adoptable dogs, cats, and small animals.