Featured Animal
Check out our featured pets and wildlife below, and go on to read our previously-featured blogs at the bottom, too!
Athena – Best for Last
We are pleased to report that Athena was adopted today 8/16/15.  Yesterday, we found homes for all of our dogs during #Cleartheshelters except for Athena – our longest resident at the shelter.  It was heartbreaking to see her alone among all the empty kennels.  However, wonderful news!  A couple came in today and adopted her!  Here they are going home: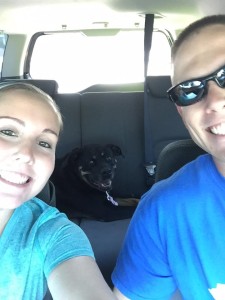 ---
If you are interested in helping animals like these, please click Donate and make a donation and make a difference.
Click here to see other adoptable dogs, cats, and small animals.