Featured Animal
Check out our featured pets and wildlife below, and go on to read our previously-featured blogs at the bottom, too!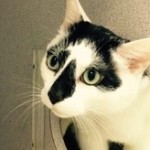 8 Cats Rescued from Truck
The
Animal Welfare League of Alexandria
recently rescued eight cats that were abandoned in a truck for at least five days without food or water.  These kitties were in terrible shape when our Animal Control Officers responded to the scene.  They were all
dehydrated
and very thin. Our veterinarian and staff have been caring for them and monitoring each of them closely.
The Animal Control Officers investigated and tracked down the owner of the cats and served him with 16 criminal summons for cruelty/abandonment.  The AWLA now has custody of the cats and we plan to adopt them to wonderful homes as soon as they are healthy enough.
---
If you are interested in helping animals like these, please click Donate and make a donation and make a difference.
Click here to see other adoptable dogs, cats, and small animals.