Featured Animal
Check out our featured pets and wildlife below, and go on to read our previously-featured blogs at the bottom, too!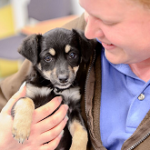 Spring2Action – A Day in the Life
We are celebrating Spring2Action – A Day of Giving in Alexandria by showing everyone how we Spring2Action everyday to care for animals. All of the staff and many volunteers are jumping in to do our yearly Spring Cleaning while still performing regular duties! Watch throughout the day!
---
If you are interested in helping animals like these, please click Donate and make a donation and make a difference.
Click here to see other adoptable dogs, cats, and small animals.