Adoption Success Stories
The League loves to hear from our graduates after adoption. The following are several updates from AWLA alumni.
Purly: Adopted January, 2013:
As Purly approached her one-year mark at the shelter, staff and volunteers were confused as to why. Everyone saw a sweet, loving, and talkative kitty who deserved a new home just as much as the other cats. Her time finally came when a family who had seen her months prior came back to adopt again. Her family had adopted a sweet, 13-year-old cat named Mittens several months prior, but unfortunately she passed away after a short time together. Instead of letting that deter them from ever adopting again, they were thankful for the time they had together, and they decided to come back for their next new family member. During their first visits to the shelter when adopting Mittens, Purly stood out to them. When back at the shelter after Mittens' passing, they noticed Purly was still here, and they decided to spend some time with her after a volunteer pointed her out.
Purly's family says the volunteer, "told us about the Purly she saw. She said that she came to the shelter a lot of times just to visit with Purly. She felt bad for her because she saw a real sweetheart and didn't think that others got a chance to see it. Just from talking to her I was sure Purly was for us. I saw that we could make a real difference for her and bring out the great cat that you guys got to see. And, it didn't hurt that you guys mentioned she was 'very talkative'. I loved the thought of that!"
Now, several months later, Purly has adjusted very well to her new surroundings. While there were some rough patches, her personality has blossomed, and some of her funny quirks come out on a daily basis. "She makes it a nightly ritual to find an acoustically acceptable section of wall, closet, or corner, and she 'sings' towards it," her family remarks.
"I am so very glad that we chose our 'Purly Girl' to join the family.  She is healthier, having lost some weight, and her coat is beautiful. Kind of like our little diamond in the rough."
Fargo: Adopted February, 2013
"I just wanted to let you know he is an amazing cat and has already settled in to his new home! Here are some pictures of him in his new home and some with his new dog friend, Apollo."
Axel: Adopted November, 2012
Axel was the last pet to be adopted during the Black Friday Adoption Special, and he is making the most of his second chance.
The boy who adopted Axel sent us pictures after one week and says, "he is the best cat in the world." Axel's "personality shines" and he is a joy to have in the house.
"I love having him and he is doing great adjusting to the new environment. Even as I write this, he is on my dining room table :)"
Axel and the other 12 dogs and cats adopted on Black Friday are all enjoying their new homes and are thankful to have such wonderful people adopt them from the shelter.
Jacob: Adopted June, 2012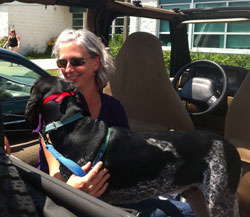 Jacob, a Bluetick Coonhound, was at the shelter for 5 months before being adopted. His new family, die-hard Redskins fans, have renamed him Jacoby in honor of legendary hog Joe Jacoby. Jacoby is transitioning well to his new home and his family couldn't be happier.
"Boy, is he a smart guy (you tell him once and he understands moving forward what is expected from him) and he has been transitioning beautifully. New things are a little scary to him but the positive reinforcement "yes" and the protocol is helping with the adjustment period. For instance, he is very intrigued with the television . . . I have never seen a dog actually watch the television! We are able to put his gentle leader on him with little fuss and he has already met many new doggie friends in the neighborhood."
Jenny and Craig: Adopted April, 2012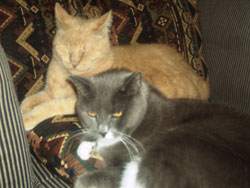 "The other day, Jenny and I got adopted. We are so happy here and we couldn't wish for anything more. We both love being able to walk around whenever we want. We love snuggling with anyone in our new family. We have plenty of food and love. It was love at first sight.
We love watching out the windows and seeing all of the squirrels and birds. I love seeing all the new exciting things that I never new were there. Being adopted changed out lives. We never knew that being this happy was really possible. Thank you so much for our new home!"
 – Jenny and Craig
Millie: Adopted March, 2012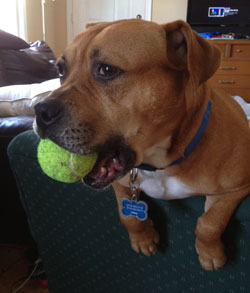 Millie's dreams came true in March when she was given a second chance in a loving home. She touched nearly everyone at the League and benefited from all of the programs and services we make available to homeless animals in need. Millie is thriving in her new home and her adopters couldn't be happier.
Millie and her brother Joker were rescued by our Animal Control team from an abusive home in August of 2011. Millie had been severely beaten with objects including a metal pipe and nunchucks. After Animal Control helped secure a conviction for animal cruelty in November, Millie was formally surrendered to the League and began working with our Behavior and Training team. It didn't take long for her playful side to come out and we knew she would make a lucky adopter happy if she was just given a chance.
Today, Millie enjoys playing with her toys (her tennis ball is her favorite) and even dressing up like Captain America. Her adopter is her hero and each day enjoys the companionship of a sweet and silly dog.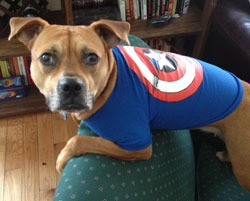 Oscar: Adopted November, 2011
"Things with Oscar have been great! He's still a bit shy with new visitors but warms up once he gets comfortable with them. He's grown A LOT since I adopted him in November. Loves to eat and really loves treats."
"I'm looking forward to the warmer weather and introducing Oscar and Emme to my patio and the outdoors. They both love to sit in front of the screen door just looking outside at whatever it is they see, and they love to work on their tans in front of the sliding glass door when it's sunny out. It's been great for everyone and I look forward to many more adventures with Oscar!"
Pictured: Oscar (top) now lives with his sister Emme (bottom), who was adopted from the Fairfax County Animal Shelter.
Frosty: Adopted October, 2011
"Frosty is doing great and seems very happy! She is a very funny cat and also likes to hunt down plastic (plastic bags, bubble wrap, etc.) and bring them to you as a trophy. We love having her in our family."
Cosmo & Bacardi: Adopted November, 2011
"Just wanted to let you all know how much we are enjoying Cosmo and Bacardi (now Cosmas and Damian), the two kittens we adopted on November 6. They are sweet, affectionate, and infinitely entertaining. Our now-deceased Miss Grey was elderly, blind, and arthritic, and consequently not able to do very much that was "catlike." These two chase each other, wrestle, play with toys, and explore the house in great detail (including making off with items they think would be fun to play with). We are so glad that we took both of them.
Thank you for the good work that you do taking care of your animals and finding good homes for them."
Tony: Adopted October, 2011
When Tony first arrived at the shelter, he was very timid and needed extra coaxing and reassurance just to come out of his kennel to go for a walk.  Our Behavior team used positive, reward based training to help build his confidence.  They scheduled play dates for him with other shelter dogs and quiet time for him in the office.  At first he was anxious when meeting new friends, but as time went on, he began to relax, and soon he was running through the play yard with his buddies.
While at the shelter, Tony participated in several Charm School classes including Stay! and Agility.  Learning new skills and games helped to build his confidence and also eased his anxiety by providing mental stimulation.  He also really enjoyed solving puzzles like finding hotdogs hidden in toys.
The shelter staff knew that Tony would need a mellow home. Patient adopters who would continue building on the foundation that shelter staff had built would be essential to Tony's success.  Late in October, a quiet young couple came to the shelter to meet a different dog, but once they met Tony they knew he was just the right fit for them.
Tony: Adopted February, 2011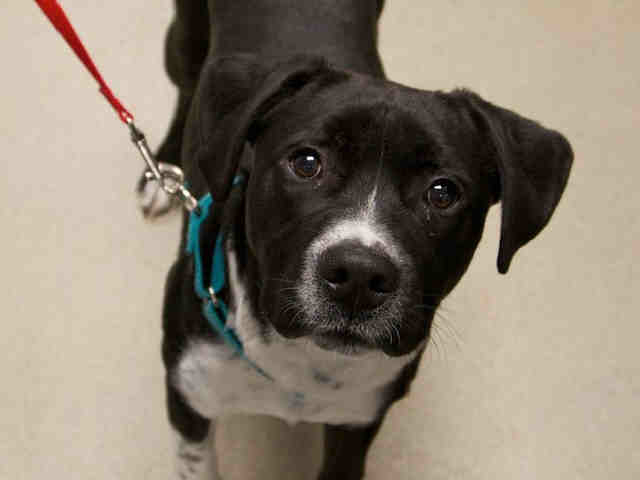 Congratulations to Tony, an AWLA grad, who went to his new adoptive home earlier this month! Tony, a mixed breed dog, arrived at the League on December 18th. He had been found as a stray near an area Metro station. When no one claimed this shy but loveable, year-old pit bull mix, shelter staff and volunteers spent the holidays helping Tony become more comfortable with handling and meeting new people. He quickly acclimated to shelter life, and charmed his way into our hearts. A resident of Prince George's County, Maryland, visited the shelter and knew that Tony was "the one…"
According to county law, residents of Prince George's County are not allowed to own pit bull terriers. AWLA staff worked with the county's Animal Management Group to ensure that Tony, as a suspected pit bull mix, would be able to legally reside in the county. The Animal Management Group kindly assisted AWLA staff and Tony's adopter to verify Tony's eligibility to be licensed and legally reside in PG County. Although this process took time, Tony's adopter visited his new friend often and patiently waited for Tony's clearance with the county.
Tony's adoption was finalized on February 3rd. Special thanks to all who helped bring Tony and his adopter together!